People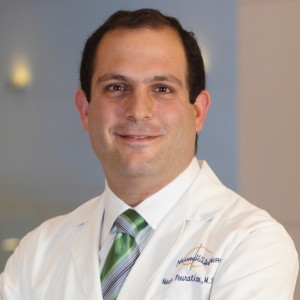 Nader Pouratian, M.D., Ph.D.
• Associate Professor - UCLA Neurosurgery

UCLA Neurosurgery
300 Stein Plaza, Suite 562
Los Angeles, CA 90095

310-206-2189
310-794-1848
Biography
Dr Nader Pouratian is a neurosurgeon-scientist whose clinical practice focuses on using brain stimulation to alleviate neurologic and psychiatric disease. His research aims to understand the network basis of disease and therapeutic brain stimulation using multiple brain mapping techniques, including both non-invasive and invasive approaches. Using functional magnetic resonance imaging and MR tractography, his lab aims to understand the how brain connections are affected in the diseases treated with brain stimulation. Dr Pouratian also uses the operating room as a laboratory, using this unique opportunity to study the physiology of the human brain in patients undergoing awake brain surgeries. Techniques used in the operating room including measuring local field potentials, electrocorticography, and neuronal spiking activity. By using a multimodality technique, he aims to understand brain networks from the cellular through the systems level.

At this time, his laboratory primarily focuses on investigating Parkinson's disease, chronic pain, depression, and consciousness. He is funded by the National Institute of Biomedical Imaging and Bioinformatics. He is an associate professor of neurosurgery and radiation oncology, affiliate faculty in bioengineering, and a member of the UCLA Neuroscience program and Brain Research Institute.
Area(s) of Expertise
• Movement Disorders
Deep Brain Stimulation (Parkinson's, Tremor, Dystonia, Tourette's)
Intrathecal therapy (baclofen)
Microvascular decompression for hemifacial spasm
Selective dorsal rhizotomy

• Peripheral Nerve Disorders
Brachial plexus injury and reconstruction
Nerve tumors
Nerve pain (including carpal tunnel and cubital tunnel syndromes)
Nerve stimulation

• Headache
Microvascular decompression for trigeminal pain
Balloon compression for trigeminal neuralgia
Deep Brain Stimulation for cluster headaches
Occipital nerve stimulation for occipital neuralgia
Trigeminal stimulation for atypical facial pain

• Radiosurgery
Brain metastases
Pituitary tumors
Arteriovenous Malformation (Brain AVM)
Meningiomas
Trigeminal neuralgia

Publications