People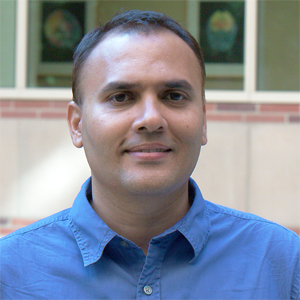 Shantanu H. Joshi, Ph.D.
• Assistant Professor - Department of Neurology

635 Charles E. Young Dr. South
Suite 225
Los Angeles, CA 90095

310-206-2101
Biography
I received my BE degree in Electronics and Telecommunication from the University of Pune, India in 1998, and MS, and PhD degrees in Electrical Engineering from the Florida State University in 2003 and 2007 respectively. My PhD research was carried out in the Department of Statistics, at Florida State University under the direction of Dr. Anuj Srivastava. I was awarded the Outstanding Graduate Research and Creativity Award by the Office of Research at Florida State University in 2007. I am currently an Assistant Professor in the Ahmanson-Lovelace Brain Mapping Center, Department of Neurology, University of California Los Angeles. My work in morphology was also applied in a collaborative research that led to an identification of a new genus of Lambeosaurine dinosaurs that was officially listed in the International Commission of Zoological Nomenclature in 2012.
Area(s) of Expertise
Computational Anatomy, Shape Analysis, Computational Statistics
Honors
• 2007 Graduate Research and Creativity Award in the category of Science Technology Engineering and Mathematics (STEM) Florida State University
• 2007 Awarded an NSF-IRES grant under the REUSSI (Research Experiences for US Students at INRIA) program for an internship at INRIA, Sophia Antipolis, Nice France
• 2002 TRW Outstanding Teaching Assistant Award of the Year, Florida State University
• 2000 Outstanding Performance Achievement award, Mahindra British Telecom for contributions to project SMART, MBT,
Publications